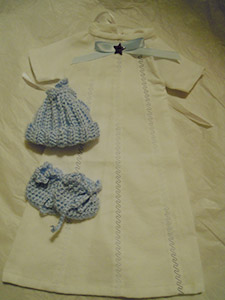 We are always in need of the following handmade (sewn, knit, or crocheted) items: 
Baby gown sets with matching hats & booties
Angel Wraps
Baby Blankets
We ask that volunteers to make items in matching sets of two.  We donate two gown sets (gown with matching hats and booties) and two matching blankets for every baby.  We do this so that the baby can wear one before burial (parents keep as a memento) and another for the baby to be buried in if parents make that choice.  ***WE ARE IN NEED ESPECIALLY OF 4-8 LB SETS OF GOWNS (PINK AND BLUE) AND LARGER BLANKET SETS AND ARE USUALLY SHORT OF BOYS SETS IN MOST SIZES***
If you are able to package your donations labeled by size and in a plastic bag that is helpful.  We package the donations together in a set of two, labeled by size (see sizing below) to help the nurses find them easier when needed and keep matching sets together.  The Hefty Jumbo bags work really well for this purpose.  Try to lay the gowns flat so they don't get wrinkled and they can be seen without taking out of the bag.
At this point, we do not accept donations of single baby hats, blankets or gown sets.
We typically make two large hospital donations each year, in January and June, but we do take donations of the handmade items at any time.  If you want to be added to our volunteer email list for handmade items, email Melissa at mikaylasgrace@gmail.com.
All donations can be sent to: 
Mikayla's Grace, PO Box 145, McFarland, WI 53558
Patterns
Below are some links to patterns found at different websites.  You can also create a free account at www.ravelry.com to get access to more free patterns.  You can also see our Pinterest page for ideas.
Preferred Knit patterns:
Knit Gown Set (includes pattern for hat and booties in 4 different sizes from preemie to fullterm)
Knit Gown Set
Knit gown
Knit Angel Pocket
Knit Booties
Knit hat (1-3 lb size)
Knit hat and booties (small preemie to newborn sizes)
Preferred Crochet Patterns:
Crochet Gown (newborn size and 1-2 lb preemie size)
Crochet gown (3-5 lb size)
Crochet gown and bonnet
Crochet Angel Wrap (3 sizes up to 5 lb)
Crochet Gown (large preemie)
Crochet Gown (newborn)
Crochet hat
Crochet baby booties
Holiday Themed Hat Patterns:
Preferred Sewing Patterns:
Sewn Gown: This is a great gown for boys 1-2 lbs, although this same pattern could be used for a girl too with different details, like a bow or more ribbon.  (View Photo)
Sewn Gown: This is a girl 2-3 lbs and the sleeves look like little angel wings. (View Photo)
Sewn Gown::  This is a really versatile pattern and depending on details can be made for a boy or girl. It has three different sizes.  Size A: 1-3 lbs Size B: 3-6 lbs Size C: 6-8 lbs
Sewn burial pouch: This is for the tiniest of babies who are too small for the gowns.
Sewn Lily wrap: (the tighter version is probably better)
Sewn Precious Pockets: for earlier losses.
Sewn NICU eye mask
Sewn Baby Diapers: pattern from Teeny Tears that donates flannel bereavement diapers
Sewn Blanket Wrap Good for the tiniest of babies who are too small for the gowns
Sewn Kimono gown patterns: Three different sizes with pictured instructions and a video tutorial
Burial gown: Three different sizes with pictured instructions
Helpful hints on sewing gowns
Sewn Gown tutorial (no pattern but good pictures of the different stages of putting together a sewn gown from a pattern)
NO-SEW patterns: 
No-Sew Stockinette hats:  These are super easy to make without any sewing!  Will fit babies from 14-30 weeks depending on size stockinette used.
Sizing Information
BLANKETS: The most universal size of blankets are 20-24″ but donations of all sizes will be accepted. 
Miscarriage Boxes: 10"
Micro-preemies : 10-15"
Small preemies: 18-20"
Medium preemies – 20- 22"
Large preemies – 22"- 30"
GOWNS/HATS/BOOTIES SIZE INFORMATION: 
4-10 ounces (16-20 weeks gestation): 

Head Circumference :5-6 " (so hat circumference should be about 4.5-5″)
Height of hat: 3.5-4″
Neck to feet: 6-8″
Chest:  3.5– 5"
Abdomen:  4-6"
Feet:  1-1.5 "

10-15 ounces (20-22 weeks)

Head Circumference : 6.5-7.5″ (so hat circumference should be about 5.5-7″)
Height of hat: 3.5-4″
Neck to feet: 8-9″
Chest:  6-8.5"
Abdomen:  6-9"
Feet:  1.5 – 2″

1 -2 lbs (~22-25 weeks gestation):

Head Circumference : 7.5-9.5″ (so hat circumference should be about 6.5″-8″)
Height of hat: 3.5-4″
Neck to feet: 9-10 1/2″
Chest:  7.5– 8.5"
Abdomen:  7-9"
Feet:  1.5 – 2″

2 – 3 lbs:

Head Circumference:  10-11" (so hat circumference should be about 8.5″-10)
Hat height:  4″
Neck to feet:  12″
Chest:  9 – 10"
Abdomen:  9.50-10.5"
Feet:  2″

4 – 5 lb:

Head Circumference:  11.5-12.5" (so hat circumference should be about 9″-11.5)
Hat height:  4-4.5″
Neck to feet:  14″
Chest:  11"
Abdomen:  11-12.25"
Feet:  2.5″

5 1/2 – 6 lbs: 

Head Circumference:  12 .5 – 13" (so hat circumference should be about 11″-12)
Hat height: up to 5.5″
Neck to feet:  15″
Chest:  11.5"
Abdomen:  13"
Feet: 3″

6-8 lbs

Head Circumference: 13.5″
Neck to Feet: 14.5″
Chest: 11.5″
Feet: 3″ – 3.5″

9-11 lbs

Head Circumference: 14.5″
Neck to Feet: 17″
Chest: 14.5″
Feet: 3.25″ – 3.75″
Other Patterns: 
Miscellaneous Preemie Patterns
More Preemie and Angel patterns
Knit Angel wrap
Knit Angel Wrap 
Knit booties and hat
Knit Gown
Crochet gown
Crochet gown
Crochet princess gown with bonnet/booties
Crochet boy's gown with hat/booties
Crochet boy's pantsuit
Crochet bunting
Burial wrap
Crochet Burial wrap
Crochet hat
Crochet Santa hat
Crochet Pumpkin hat (4-5 lb size)
Crochet Candy corn hat/booties
Crochet Santa hat
Crochet baby booties
Crochet baby booties
Crochet Heart Baby Blanket (18″x20″)
Crochet Baby Blanket (18″x18″)
Crochet Dragonfly
Crochet Butterfly
Other knitting patterns
Other crochet patterns
General tips
Other resources: 
http://www.bevscountrycottage.com/bereavement-gowns.html
http://www.newbornsinneed.org/volunteer/pattern-central/
http://www.carewear.org/index.cfm?pid=patterns/_patterns.cfm
http://www.touchinglittlelives.org/sewing.html
http://www.thepreemieproject.com/volunteer/patterns/P2/
http://www.angelfire.com/planet/mcshelpsite/sewingstuff/freepatterns.html/#charity
http://www.crochetnmore.com/baby.htm
http://home.inreach.com/marthac/preem.html
http://www.bbc.co.uk/stoke/content/articles/2007/10/16/babywear_patterns_feature.shtml (knit patterns)